Our private self contained  Studio is based at 15a Watt Street, Greenock, Inverclyde, and is the ideal location for teaching and training. Situated only 30 mins from Glasgow, Ayrshire and Argyll complete with easy access to rail, bus and ferry links.
During the evening and at weekends there is ample car parking available in Watt Street.
We believe we have created a studio that provides the very best environment for Ballet lessons and training.
The studio which only opened in 2011 also provides a bright waiting area allowing parents to wait in comfort while having a tea or a coffee.
Our Studio has been used by Scottish Ballet and Ballet West.
During the week Alba Ballets sister Company, Elite Academy of Dance use the studio for Ballet Dancers, who undergo Ballet Lessons and sit Royal Academy of Dance in Classical Ballet.
The Studio has recently undergone refurbishment with the addition of a second smaller warm up studio. New mirrors have been added to the main studio.
This has allowed an additional area to teach a small group on a  one to one basis as well as allowing dancers a proper warm up area prior to ballet classes.
We were also delighted to welcome the BBC, Strictly Come Dancing team for three days in September 2012.
It has been our base since 2012, and seen literally thousands of hours of practice and rehearsals for The Nutcracker, Cinderella, Coppelia and Sleeping Beauty.
Alba Ballets aims and objectives are simply to give up and coming ballet dancers the opportunity to perform in a full blown classical ballet production.
Where you can experience the thrill of performing with a cast in full costume on a stage with a full set of scenery.
It is a unique experience that is not offered anywhere else in Scotland.
We are about to start work on our fifth production which will be The Nutcracker in 2022. So if you have the dedication , determination and want to perform in this production we want to hear from you
Julie qualified as Teacher with the Royal Academy of Dance in the spring of 2009. It was during 2009 that Julie opened The Elite Academy of Dance. The school has gone from strength to strength from its humble beginings at Inverclyde Academy so much so that Julie opened her private Studio in Greenock in 2010.
Her pupils follow the RAD syllabus and normally sit exams once a year.
Results have always been above National Averages and this has allowed Julie to place over 10 of her students with Scottish Ballet Associate Programme, The Dance School of Scotland and Ballet West.
To take students to an even more intense standard of Classical Ballet and Performance she started Elite Academy's Associate Programme, Alba Ballet in 2012.
All Julies pupils also take part in end of year Elite Academy Summer Show, over two evenings.
The school  has also performed at the Tall Ships 2011 in Greenock and Julie has prepared students to perform at St Andrews Nights, Burns Nights and Fundraising events over the past few years.
At the age of 12, Julie spent the school summer holidays with the Russian Ballet, training and performing in Edinburgh.
Four years later aged 16, Julie left home and studied at Ballet West for 4 years,taking part in productions such as Romeo & Juliet, Coppelia and The Nutcracker. While at Ballet West Julie started teaching as a first year student at Ballet Wests outreach programme.it wasn't until 2007 she decided to start her Royal Academy teacher training.
She also performed with the Black Eyed Peas and has appeared in Vanity Fair.
As well as teaching at Alba and Elite Julie also taught Classical Ballet at UK Theatre School from 2011- 2013.
Julie launched Silver Swans- Classical Ballet for pensioners in Oct 2013, following successful trials by the RAD in Glasgow. Silver Swans now meet every Tuesday and Thursday morning.
The Scottish Ladies Gymnastic Squad for the Commonwealth Games in 2014 worked with Julie for nearly 18 months prior to the games.
She also was a guest teacher with the BBC during the Commonwealth Games in Glasgow.
In November 2014, Julie produced Alba Ballets and her first major production of The Nutcracker. This was Alba Ballets first two year training programme and was performed over two nights to an audience of 800 plus people.
At the start of session 2015, Julie embarked on her partnership with New College Lanarkshire, which saw Alba take SQA Higher Dance classes and exams.
Alba and Julie continued onto their next production of Cinderella in 2016, with two performances at The Beacon, and an additional performance at Barrfields in Largs.
2018 saw Julie and Alba Ballet complete Alba Ballets third production of Coppelia again with three performances over the same two venues as Cinderella. Work is now underway for our next production of  Sleeping Beauty in 2020.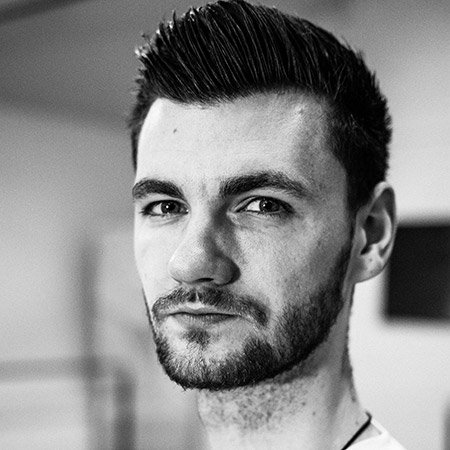 SHAUN McLAUGHLIN – Teacher/ Choreographer
Born in Glasgow Shaun started dancing at the age of 12 attending The Dance School of Scotland. After 5 years of training Shaun went on to train at Elmhurst School for Dance in Assosiation with Birmingham Royal Ballet under the directorship of Desmond Kelly and Eroll Pickford for 3 years. During his time at Elmhurst Shaun worked with Birmingham Royal Ballet performing in The Sleeping Beauty, Romeo and Juliet, La Fille Mal Gradee, Copellia and Slaughter on 10th Avenue on tour across the UK and performed in The Sleeping Beauty in Japan.
Upon graduating from Elmhurst Shaun became the first ever British male to join The Croatian National Ballet under the directorship of Ronald Savkovic. Shaun was promoted to Soloist in his first season with the company at the age of 20 and danced The Prince in Cinderella and The Prince in The Sleeping Beauty. During his time in Croatia his repetory included Carmina Burana, Shut up and Dance, Madamme Butterfly, Aida, Anna Karenia and Mirror of the Soul.
In 2013 Shaun was a Guest Artist for Ther Macedonian National Ballet for their production of Alexander The Great choreographed my Ronald Savkovic.
Shaun has also taught at some of the best international ballet companies in Europe including The Croatian National Ballet Rijeka, The Croatian National Ballet Zagreb, The Russian State Ballet of Siberia and The Macedonian National Ballet. Shaun also spent time in India teaching students from New Delhi and Mumbai.
Shaun has also won multipal awards for his choreographic skills during his time at The Dance School of Scotland and at Elmhurst School for Dance and most notably an award from the Culture Minister of Croatia for his work Metatronic Destination.
ANNE MARIE REID – Physiotherapist
Anne Marie has a BSc Honours in Physiotherapy. She will be involved as Alba Ballets Physio making sure students have the correct information to treat any aches and strains and give advice on recovery of any long term injury.
As part of the overall conditioning of Students Anne Marie will be taking various Pilates Classes to improve core strength.
KIRSTY TREMAYNE – Teacher/Choreographer
Kirsty joined the staff at Alba in August 2018. Since an early age she showed a passion for Ballet and decided to pursue performing arts as a career. In 2006, Kirsty gained a full scholarship to attend Northern Ballet School in Manchester, appearing in many full length classical ballets such as Swan Lake, The Nutcracker and Coppélia with Manchester City Ballet. 
After graduation, she embarked on a career travelling around the world performing in all genres of dance including Classical Ballet, Musical Theatre, Tap, Ballroom, Latin American and Jazz.
In 2016, Kirsty gained a place on the prestigious Professional 
Dancers Teaching Diploma course at the Royal Academy of Dance where she graduated with Registered Teachers Status (RTS).